I have loved fashion for as long as I can remember.  I started fashion sketching when I was in junior high and dreamed of being a fashion designer.  Growing up to be a fashion buyer fulfilled a lifelong goal of having an established career in the fashion industry, but it also took a toll on my enthusiasm for fashion.
Don't get me wrong, being a buyer was dream come true and I am grateful for the opportunity I had to be one, but buying clothes for a job really took some of the fun out of fashion. There was a long period of time, where I stopped shopping COMPLETELY, because it just felt too much like work.
But even in my most anti-fashion times, I have ALWAYS looked forward to New York Fashion Week.  It is the BEST time of year and I never fail to look at EVERY show on Style.com.  When I was an apparel buyer, a big part of my job was trend analysis, so I always had to pull together trends from all of the collections and report it back to my buying team.
I spent the last week looking at EVERY show (I lost count after 300) and pulling together some of my favorite trends.  Today, I will share them with you and provide an example of how it can be translated for your home!
Here are 5 Fashion Trend from NYFW Spring 2014:
1. BLACK AND WHITE
Rachel Zoe/Escada/Diane Von Furstenberg/Pam&Gela
This trend has been present for a few seasons, but Spring Fashion Week has confirmed that it is not going ANYWHERE! Black and white was part of fashion week in a big way.  I personally loved seeing it in tribal prints, like this piece from Whit or the Rachel Zoe piece above.  Show after show proved designers are still crazy about black and white.
I love this black and white polka dot bedroom from A Merry Mishap blog.  It incorporates several black and white patterns, but still allows enough white space to give the area a sense of calm.
2. FOLK EMBROIDERY
Holly Fulton/Mulberry/Oscar de la Renta/Sass & Bide
This was a trend I was especially excited to see!  Folk embroidery took presence at several shows and I placed the best examples here.  Whether in traditional multi-colors or monocromatic, folk embroidery brought a lot of ethnic punch to Fashion Week.  I love this fresh take on "florals" and can't wait to incorporate this in my wardrobe and my home.
This example uses this embroidery in just the right way.  A couple of throw pillows and a quilt add a lot of punch to an otherwise plain room.  Another idea I love, is using folk embroidery or a folk-inspired print on a headboard like
this one
.  
This Etsy Store
has some great embroidered throw pillows.
3. WATERCOLOR
Another great new-take on florals is watercolor.  Watercolor prints were present all over fashion week and I think this is a fantastic evolution of the dip-dye/ombre trend we've been seeing for so many years now.  It's perfect for spring pastels, but can be adapted in any color group.
I found a lot of examples of DIY watercolor projects, so I think there is a lot of opportunity for DIY'ers to incorporate watercolors in their home.  This line of watercolor fabrics from Kim Johnson should be a good place to start. For the non-DIY'er, Blue Bell Gray has a whole line of watercolor pillows, bedding and curtains.
4. GINGHAM PLAID 
Tracy Reese/House of Holland/Ruffian/Sister by Sibling
I was surprised to enjoy the presence of gingham plaid in Fashion Week.  I generally think of gingham plaid as safe 50′s picnic table cloth and something for the pages in Country Living Magazine.  But the way it was presented in New York was bold, energetic and fresh.  It got me thinking how I could reinterpret this print in a new way for the non-country home.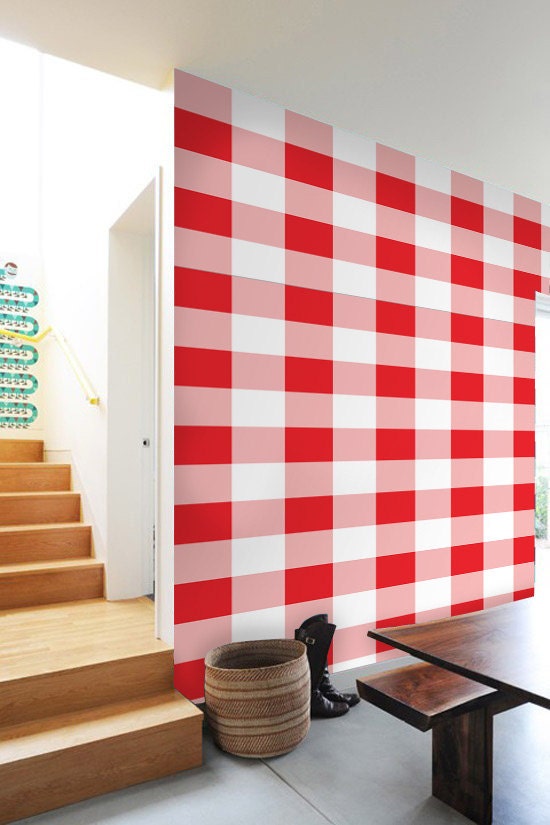 Art Board Gingham Wallpaper on Etsy
The best modern example I could find of gingham plaid was this oversized gingham plaid wallpaper on Etsy.  It's crisp and modern and makes me want to challenge myself to see other ways of translating this trend for the home.  With it's storybook-nature, I think it would be great to use in a modern kid's room.
5. HEATHER GREY
Jason Wu/Kate Spade/Tibi/Sachin + Babi
Grey has also been trending for a LONG time, but seeing in in this casual, sweatshirt-y vibe, made it look appealing.  Especially when mixed with white, it has the ease of a rainy Sunday morning, spent in bed with a stack of magazines and a cup of tea.
This room almost perfectly translates that comfy vibe I described above, although it would be nice to see some fun accents added with some grey and white stripes and maybe a cozy throw.  I'd like to try to incorporate some sweatshirt fleece somewhere in the room as well, to reiterate the casual feel.
Those are my 5 favorite trends from NYFW, what are yours? To see more of my favorite looks from NYFW, check out my Pinterest Board.
On Friday, I'll be back explaining some of my process so you know exactly HOW I find trends/patterns during fashion week amongst the THOUSANDS of images online.
See you then!